Belle Mehus Auditorium Seating Chart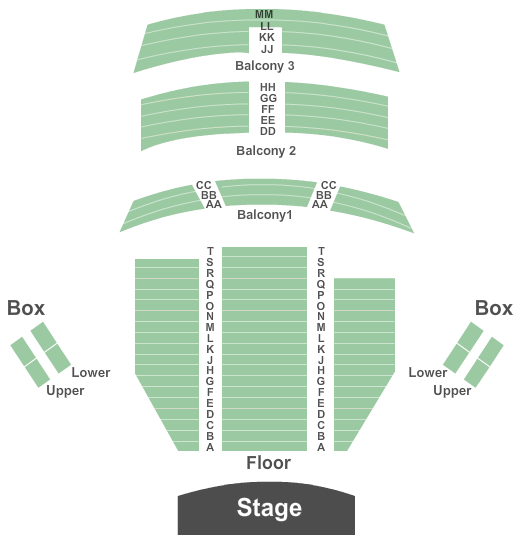 At 833 seats the Belle Mehus City Auditorium is never going to be an Arena, instead, with its incredibly well-thought-out seating plan, the audience is broken up into four levels, a first floor and three balconies, all the seats are placed on a gentle slope, rising up away from the stage. Subsequently, if you happen to get placed behind a seven-foot giant, it won't be a problem, and you will still see the whole show! The clever design of the auditorium ensures that where ever you sit you will be able to hear the show perfectly.
The auditorium seating is arranged in rows listed alphabetically from A to T, with row A closest to the stage. The balconies are then listed in double letters AA through LL and there is elevator access to the balcony levels and Box seats. Box Seating, features small, separated seating areas situated on the upper levels but close to the stage. The separate areas are large enough to fit a limited number of people for a more private viewing experience, the Belle has four Boxes available. Belle Mehus Auditorium VIP seating packages will vary per event.
Accessible Seating
The Belle Mehus City Auditorium has an Accessible section with space for four(4) wheelchairs on the first floor level on rows R to T. Patrons using the balcony levels should be aware that there are two or three steppes leading from the walkway to the seating area, and that there is no railing on the one side of the Gallery, the third level balcony.
NOTE: Belle Mehus Auditorium may host events that require different seating arrangements. When you select your tickets, please check the seating chart map that is specific for your event.
You can book your ticket today and grab yourself the best seats available. Check out the Belle Mehus Auditorium schedule to see all the exciting upcoming events.
For policies and authenticity guarantees regarding the tickets provided, please see the ticket information page.